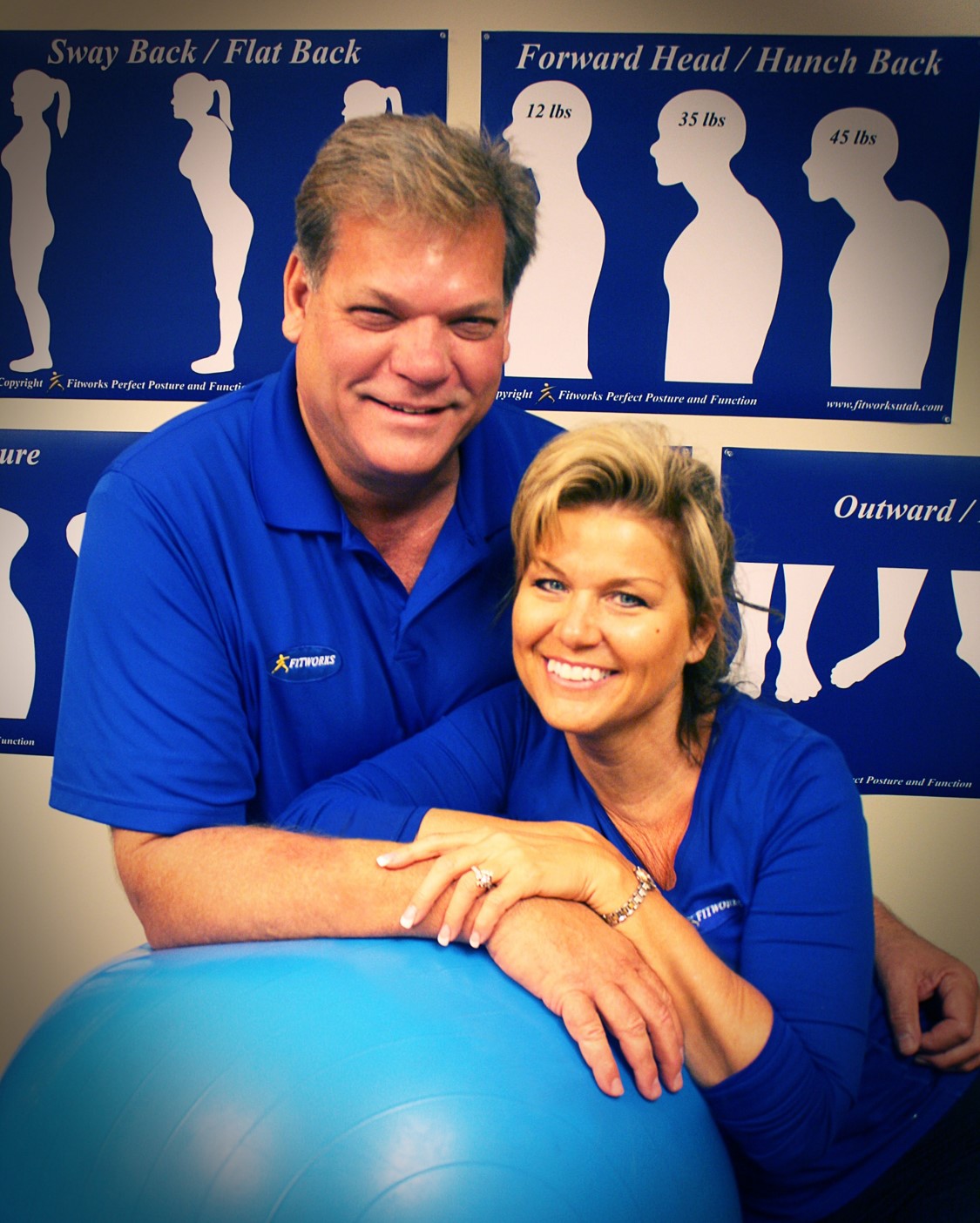 How Fitworks Perfect Posture Got Started
At Fitworks Perfect Posture, Gary and Sherry Rumel are proving every day that growing older doesn't have to be painful, and you shouldn't have to give up doing the activities you love because of joint and muscle pain.
Since founding Fitworks in 2000, Gary has helped more than 5,000 clients, from age 12 to 97, discover their perfect posture and enable their bodies to heal and function properly. It's a proven method of correcting musculoskeletal imbalances that Gary pioneered after years of studying anatomy.
"It's a whole new concept," says Gary, a myo-physiologist who moved here with his wife in August 2017. "Miracles are taking place everyday. We're building and stretching specific muscles in a way that solves the problem after six to twelve sessions. We're fixing your problem – not just trying to build a clientele."
Golfers are among Gary's most satisfied clients. In fact, at the Alpine Country Club in Utah, Gary was known as the golfer's secret weapon. Countless golfers, who were told that they needed surgery and must quit playing the game they love, were back on the golf course after completing 12 one-hour Fitworks sessions.
"These golfers were able to cancel their surgeries," Gary says. "We fixed their problems without shots, without [chiropractic] adjustments. We used stretching to make them more flexible and built up the muscles around the vertebrae. Not only did they get back on the course, they dropped their handicap by two strokes and hit the ball 35 yards farther."
Now, with their new online studio that virtually serves clients wherever they are, Gary and Sherry are eager to ensure that golfers can stay on the course, as well. They can also help others with back problems, knee problems, hunched backs, sciatic pain, and curvature of the spine, among other musculoskeletal issues.
Sherry, in fact, is one of Gary's best success stories. They met on a blind date in 2013, and when Gary started describing what he did for a living, Sherry thought, "Oh my gosh – I think this guy can help me!" Sherry had been suffering from severe back, leg, and hip pain since she was a teenager. "I was in pain all the time, and I never thought I could be fixed," she says. "But now thanks to the Fitworks program, I am pain free for the first time in my life."
What's Different about Fitworks?
All-Natural
We don't use medication at all. We take an all-natural pathway to discover the origins of the problems.
Muscles
Muscles are the largest organ of the body, and the medical establishment completely ignores it!
Healing
We utilize the body's own healing powers to help it heal itself. "The body was created to heal itself when in a state of ease." That is our belief and we have proven it time and time again.
We are PREHAB.  We want to get you BEFORE you have to have surgery.  Physical Therapy is Rehab. They help you heal after injury or a surgery.
We want to stop you from injuring yourself any further and keep you from having a surgery.  Because we are moving the joints back into the proper positions, there is no more bone-on-bone contact like when a joint is in the wrong place.
We naturally correct and heal bulging and herniated discs, bursas, sciatica, and many other issues simply by putting the joints back in place.  We have also helped to keep people from having knee and hip replacement surgeries. 
Email
FitworksPerfectPosture@gmail.com